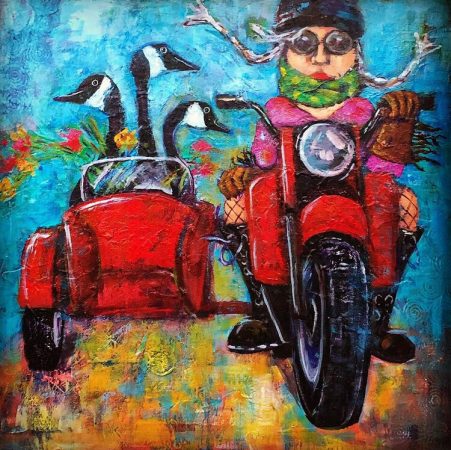 In the Fall of 2019 we spent three months road tripping in Australia in a camper van, which is really the best way to travel in that country.  We have strong ties there, as my husband, Graham, is Australian and our three children have Canadian/Australian citizenship. Anyway we had a fabulous trip and saw more wildlife than I could have ever imagined!  The terrible wildfires of that year and the next began at the tail end of our trip.   Fortunately they only affected us in that we had to reroute some our travel plans to avoid them.  But they became much worse after we returned in December.  I was heart broken.  The Australian bushfire of 2019-20 was one of the worst disasters in modern history killing or displacing nearly 3 billion animals.  Places we had visited were destroyed. 
Feeling distraught I decided to use what I know best to raise funds for the relief effort. 
I made three paintings for this project, 'Kangaroos at Mimosa Rocks' was the first.  It's a painting of a mum and her joey and was my first experience of being so close to this amazing wildlife.  I was able to get about 10 feet away from these beautiful creatures. 
'The Koalas of Raymond Island' was the second painting.  We saw many koalas on our trip but none as close as this one. It was such a wonderful little island and such a special day.  
'Kookaburra in Lane Cove National Park' was my third and final painting of the series. The call of a kookaburra became magic to my ears. I never got tired of hearing it.  This guy was particularly friendly and would sit on the door of our camper. 
I made reproductions of each to sell and along with the original three paintings, donating 100% of the proceeds and in the end was able to donate $20,000.00 to WIRES (NSW Wildlife Information, Rescue and Information Services) and Victoria Wildlife.
 In the month of October 2017, I spent a month in Thailand at the artist's residency, Com Peung, located just outside the city of Chiang Mai, Northern Thailand.  My idea was to work with mixed media using materials from Thailand.  The only materials I brought from home were a handful of brushes and some embroidery thread.  I decided to work on patterned fabric which I purchased from the wonderful fabric market in Chiang Mai.  I wanted to work on fabric for the easy of transportation, and with patterned fabric in particular, made in Thailand, for interesting backgrounds.  I used photo reference from pictures I was taking during my travels.  To begin, I stretched the fabric on a temporary stretcher made from bamboo, and painted with layers of acrylic paint.  Some of the pieces were completed them with a bit of embroidered detail.